Smile Gallery
Dentist in Grayslake
Success stories:
Almost all of us have something about our smile we would like to change. It could be a small space between our front teeth, or it could be discoloration caused by a childhood accident. Often, we put off doing something about it due to other priorities.
Now may be the time. Your smile is your most important feature. It gives you confidence, and it is immediately noticed by those around you. If you are interested in "fixing that little something" Four Lakes Dental is the place to start. Read the stories of our own patients:
Savannah B.
Veneers
During her initial visit, Patient S.B was concerned about the alignment and appearance of her front teeth. She had white spots on her front teeth and her side teeth were small which created a gap between her front teeth. After the visit we recommended a few option and cosmetic veneers was accepted by her. In total of three sessions and in three weeks she had her new smile and she was extremely happy with the outcome.
Veneers can correct a wide range of cosmetic concerns. They are affordable, durable and efficient. They can correct front teeth internal stains, discolorations and even spacing and misalignment. For more information and more before and after success stories, please visit our website at www.4lakesdental.com.

Julie G.
Veneers
Julie came to our office for a consult and checkup. She was concerned about her front teeth being misaligned and also mentions that they have had root canals done previously and have changed color. She did not like the appearance of her front teeth with multiple fillings and discoloration present.
We suggested veneers as an option and she accepted the treatment plan. In three sessions she had her new smile. Per her request we designed the veneers to be whiter and aligned. She is very pleased with her new smile.

Patient M.K
Immediate Bonding
For many minor to moderate alignment discrepancies, immediate bonding is the fastest resolution. Unlike braces or clear aligners that take time to have results, bonding is usually done in one setting. Below you see one of our patients who came in for an initial visit and consult. He has been wondering how he can have the space between his front teeth fixed. We explained different options and he decided to do bonding. He was satisfied with the outcome in one setting.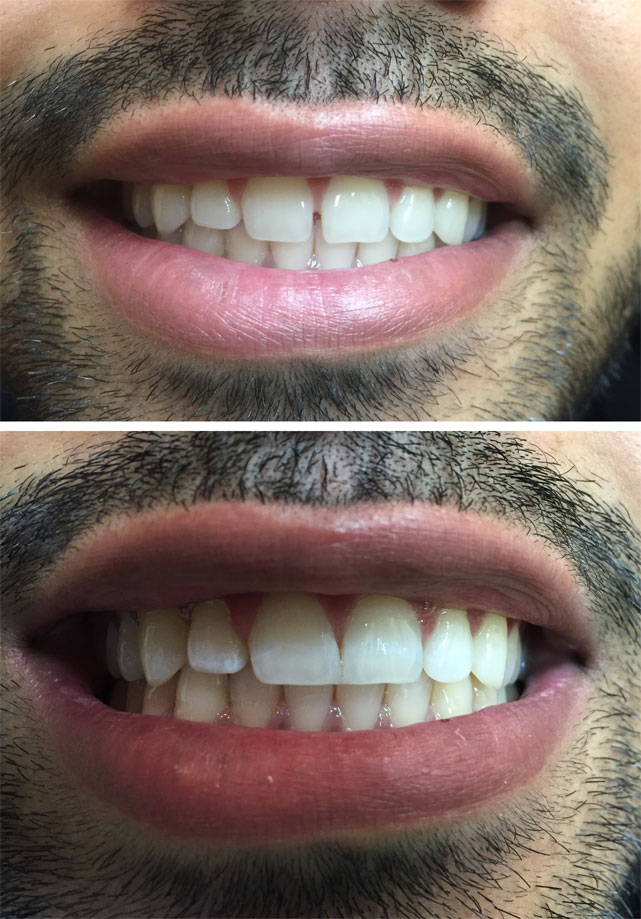 Patient Taylor
Patient Taylor came to our office with the chief complaint of "I need a permanent solution for my front teeth." He had lost his front teeth in an accident and was dealing with temporary solution for couple of years. We offered multiple options including, implants, implant based bridges and tooth supported bridge. Since he was on a tight budget, he requested a payment plan. We were able to offer him 12 months no interest payment option and he had his new smile in 2 weeks with a monthly payment that fits his budget. #broken teeth #front teeth #cosmetic dentistry #dental bridges
We just had his two months follow up and he was satisfied.
Patient A. T.
Patient A. T. came to our office from out of state. His main complaint was the spacing between his front teeth. He was given the options of veneers and bondings to improve his smile . Due to his time restraints, he decided to do the one-day bonding option. He had his new smile in less than an hour and was very satisfied with the outcome.

Patient J.D.
Patient J. D. had multiple bondings and composite fillings on her front teeth which would change color and absorb stains over time. She wanted a permanent solution that would fix the color and mild to moderate misalignment.
We offered her the option of veneer restorations and discussed the treatment plan and advantages of veneers. She accepted the treatment option and we moved forward. She had her new smile in less than a month. She just completed her 2-month follow-up and is very happy with the outcome.

Patient S.H.
Patient Susan H was not happy with the appearance of her smile. She told us that she had done braces when she was younger but during the past few years, the attrition caused by her occlusion has changed her smile.
The option of cosmetic crowns was offered to her and discussed. In about 3 total sessions, we were ready to cement her new crowns and she was very pleased with the outcome.
Patient Laura.
For many patients, complete dentures and complete implant supported dentures could be an exciting and at the same time challenging dental treatment. We at Four Lakes Dental, have an extensive experience in this procedure.
Laura came to our office with the chief complaints of not being able to chew her favorite food and not being able to smile confidently. During her first visit we introduced some treatment options and payment plans to her and after considering the pros and cons of every plan, she decided on what works best for her.
in about four visits, her new teeth and smile was ready and she was extremely satisfied.
Here is a selection of some of our other cosmetic dental work: